The
mini, full-featured

Jumping Jet

Magical — the appropriate word to describe the jaw-dropping effect of the Fontana Jumping Jets. The latest family member, the miniature MXPmini is a full-featured, stainless steel jumping jet that uses our latest technologies and innovations. Perfect effect, heavy-duty, entirely new.
316L


All Stainless Steel

RGBW


Powerful Lighting

All-New


Cutter Technology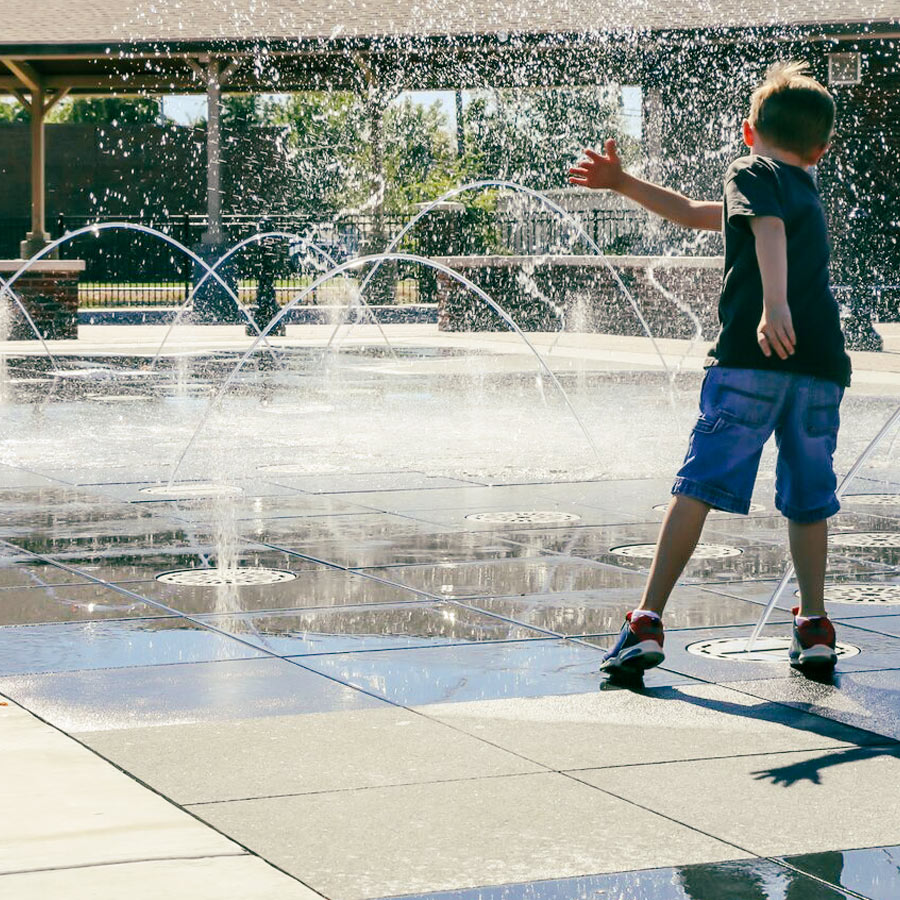 Small footprint,
remarkable performance
Jumping Jets have a certain
wow-factor

; they have a special way of attracting an audience and becoming the focal point wherever installed.
Precision Nozzle
Exceptional Laminar Effect
Spectacular Lighting
High-Intensity RGBW LED inside
Remarkable Build Quality
Stainless-Steel & Premium Finishing
Precision is the essence of Jumping Jets.

To achieve the highest level of quality, we utilize an array of state-of-the-art machines like laser cutters and CNCs to manufacture these jets. This manufacturing method ensures a perfect and consistent water effect, and a long-lasting installation.
So subtle and yet so lively. The MXPmini is perfect for shopping malls, parks, hotels & high-end residential applications.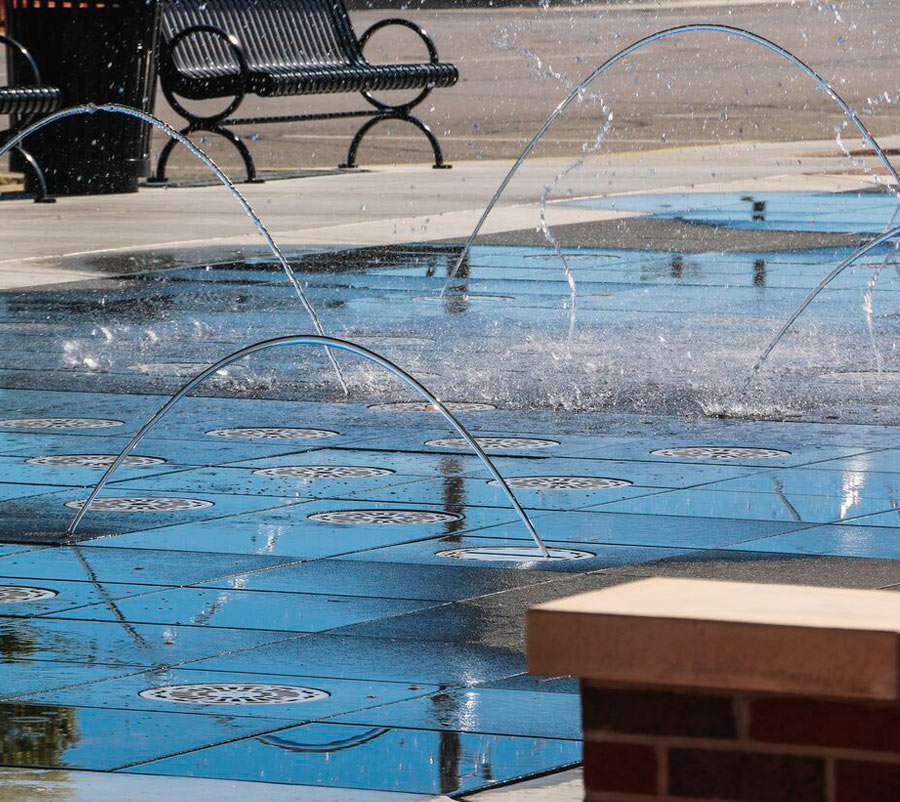 Show-grade Lighting. The MXPmini uses the same LED engine of the larger MXP series – a super-powerful, RGBW 4-core LED chip with exceptionally rich colors.
Jumping Jets as part of interactive fountains is one of the best applications for the MXP mini. It can be integrated into complex, choreographed water features with additional effects.
Stainless Steel 316L
Inside – out.
Innovative Engineering
The MXP Mini is a masterpiece of innovative engineering. It is economical, yet made of heavy duty Stainless Steel and machined by smart CNCs at exceptionally sharp tolerances. No compromises are made in any component quality – it's just smart engineering.
Mounting Bracket
For the MXP mini we designed a smart, sturdy mounting bracket for easy installation and firm mounting. The laser engraved sides feature clear angle markings to aid installation, while the bottom hole layout allows for various ways to mount the jet. It's made entirely of heavy duty stainless steel.
Unibody Cutter
The new cutter of the MXP mini is enclosed in a rocksolid stainless steel housing. The unibody design of the housing allows for passive cooling even without the presence of water to ensure the durability and longevity of the cutter.
Beautiful Finishing
Satin, Brushed, Bead-blasted and Laser-generated finishings are used across the body of the MXP mini to create a beautiful, timeless design. The finishings are carefully created and crafted in a way that they withstand extreme environmental conditions.
Praised for the

full-stream lighting

and the incredible color richness.

The MXPmini features the same LED engine as its larger siblings (MXP series), giving it spectacular intensity and vivid colors. The powerful light source makes light travel through the entire stream – from the output of the nozzle up to where the stream meets the surface. Vibrant colors stand out in the dark and create this fantastic, magical effect.

Advanced electronics, smart technologies, and special optics work together to create laser-focused, high-intensity lighting in 4.2 billion colors – at just 8W at full power. Easily controllable via DMX/RDM, or the more efficient led:bus.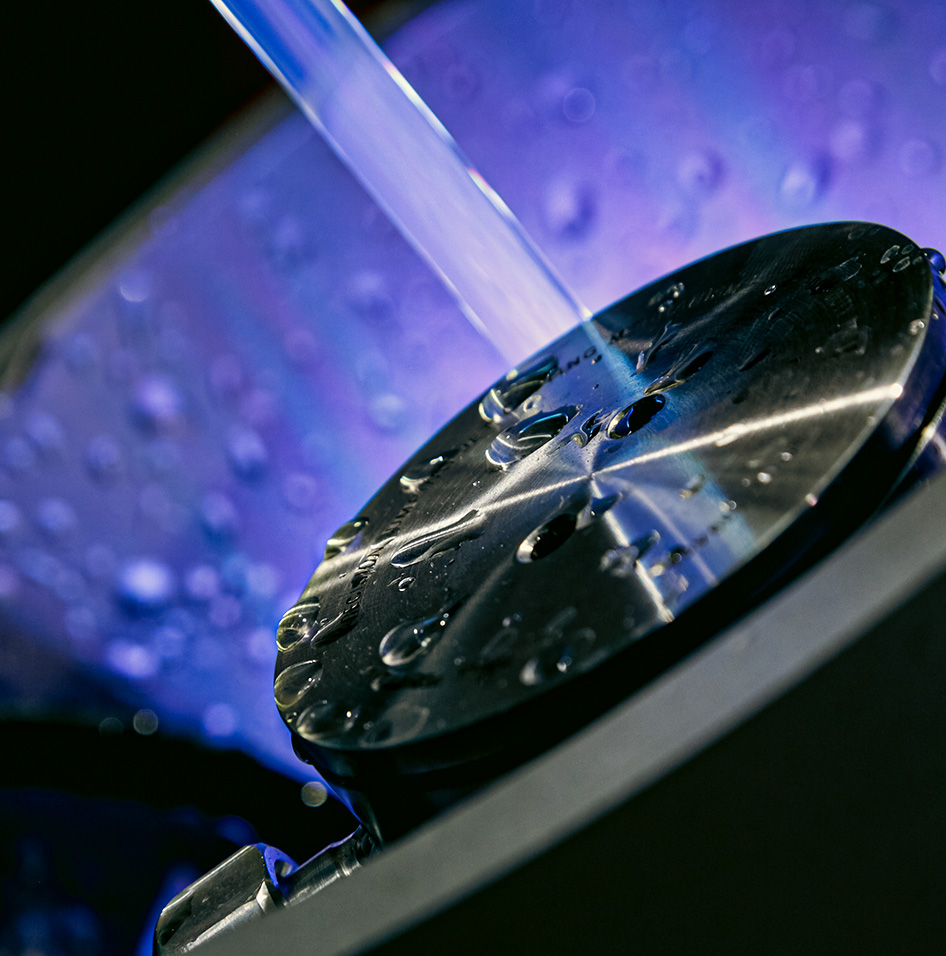 All-new Cutter
Jumping Jets are made to pop, burst, jump. Over and over. The MXP mini features an all-new, re-designed cutter. Completely re-engineered from scratch and using intelligent technologies, the new cutter can do its magic all day and night long. It can work continuously without breaking a sweat.
Virtually inaudible and consuming just a fraction of the power the previous generation needed, the MXP mini is the most efficient Jumping Jet we have ever created. It makes an excellent cut, at exceptional speeds, at a hard to perceive rate. This makes it possible to generate mind-boggling water effects that were traditionally possible only with much larger systems.
100

%
The MXP mini can work continuously all-day. There is no limit to this and there is no need to cut the stream every now and then.
90

%
The phenomenal engineering of the new cutting mechanism makes it 90% more energy efficient compared to the previous generation.
98

%
The new cutter is virtually inaudible. There is no mechanical sound or other noises when the device is activated or deactivated.
0.10

sec
One 10th of the second. That's how long it takes for the cutting mechanism to cut the laminar stream. And it can do this 10 times per second at an unforeseen rate and repeatability.
Zero
The lightning-fast cutter combined with the internal two-stage drop-catcher is what creates a splash-free, crystal clear water stream flying in the air.

One cable.
Our most advanced technologies embedded.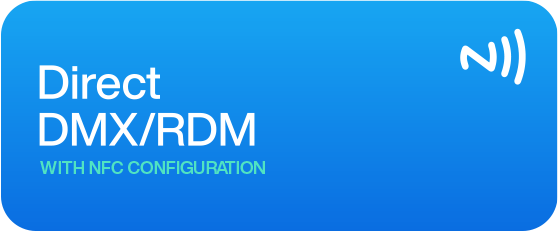 The MXP mini needs only one cable for power & control of the light and the cutter. It work with direct DMX/RDM and can be configured remotely via NFC — even without power.

Fontana Jumping Jets are now controllable via direct DMX/ RDM connection. A standardized, universal method of control that gives you complete control of the jet, with a wide selection of controllers and apps available. It also provides vital diagnostics and the device status back to the main controller via RDM (Remote Device Management).
NFC Configuration Technology
The MXP mini Jumping Jets now feature the new Fontana NFC configuration technology. A simple tap on the jet with your smartphone, and you can see the device status, configure its settings and enable or disable the standalone mode. And you can do all these without having to power up the jet.
Automatic Discovery
No Power required
DMX setup
Usage Statistic


1 One DMX connection is required for both the cutter and the light.
2 A non-DMX version of the MXPmini is also available and can be controlled via PLCs or other electrical command-based systems.
3 Fontana is a recognized and formally registered DMX/RDM manufacturer listed with the ID 0965h.
4 The Tapp app is currently only available for Android devices, due to software and hardware limitations of Apple devices.
50

%
The MXP mini requires just one cable to operate. This drastically reduces the workhours at the site and the cable costs – practically by 50%.
80

% less
All the controllers and drivers are integrated to the jet, you don't have to make complex control panels with Solid State Relays, LED controllers etc.
Standalone
In this mode you only need to provide power to the jet and it creates light shows and beautiful choreographies on its won.
Technical Specifications
Mechanical
Diameter:
220mm 9 inches

Total Height:
260mm 10 inches

Mounting:
Heavy-futy bracket for floor mounting.

Trajectory:
30°- 70°

Water Level:
0 – 150mm (0 – 6″)
Material
Stainless Steel AISI 316L 1.4404
Premium Satin finished with brushed details and laser etched details.
Application
Fresh, Pool and Sea water
Cutter
Instant Cutting Mechanism
Gen. 2.0
Lighting
Full-Color RGBW LED
addressable, with concentrated optics and embedded self-protections
Electrical
20W Total Power | 24V DC
Also available in 12V DC.
The cutter is rated 11W during operation, the light is rated at 9W when all colors are at 100%.
Control
Direct DMX/RDM with NFC Configuration Technology
Also available with electrical control and/or led:bus.
The Jumping Jet occupies 5 DMX addresses and appears as one RDM-enabled device on compatible DMX controllers. Remote NFC configuration allows for additional functions & features.
Standalone Mode permits the use of the jet with no controller.
Self Protection
Yes
The embedded processor constantly monitors the operation of the fixture to ensure optimal operation.
The Active Thermal Protection system uses a smart algorithm to gradually reduce the brightness in case of overheating, ensuring the max. possible light output.
Additional hardware systems provide overvoltage, voltage surge and reverse polarity protection.
Cable
3.0 meters Chlorine-Resistant Waterproof Cable
12ft type SOOW for North America, UL Listed version
5m, 10m, 15m or custom lengths available on request
Hydraulic Performance & Data
angle
Throw
Apex
Flow
Head
°
m
ft
m
ft
lpm
gpm
m
ft
30°
1.0
3
0.25
1
15
3.9
0.7
2.5
30°
2.0
6
0.40
1.3
21
5.5
1.4
5
30°
3.0
9
0.55
1.7
25
6.6
2.1
7
55°
1.0
3
0.50
1.6
15
3.9
0.8
2.5
55°
1.5
5
0.65
2
18
4.7
1.1
3.5
55°
2.0
6
0.85
2.5
21
5.5
1.4
4.6
55°
2.5
8
1.00
3
23
6.0
1.7
5.6
70°
0.5
1.6
0.50
1.6
13
3.4
0.6
2.5
70°
1.0
3
0.85
3
18
4.7
1.1
3.5
70°
1.5
5
1.15
4
22
5.8
1.5
5
70°
2.0
6
1.50
5
25
6.6
2.0
6
Requirements: 50 microns filtrated water. Windless conditions. Non turbulent water supply. Use of line filter is recommended.
Downloads
You can download any of the following files for your own personal use. Information contained in these files might change without prior notice. Copy in part or in whole, as well as reproduction, publication, distribution or any other use are strictly prohibited without written consent by Fontana.