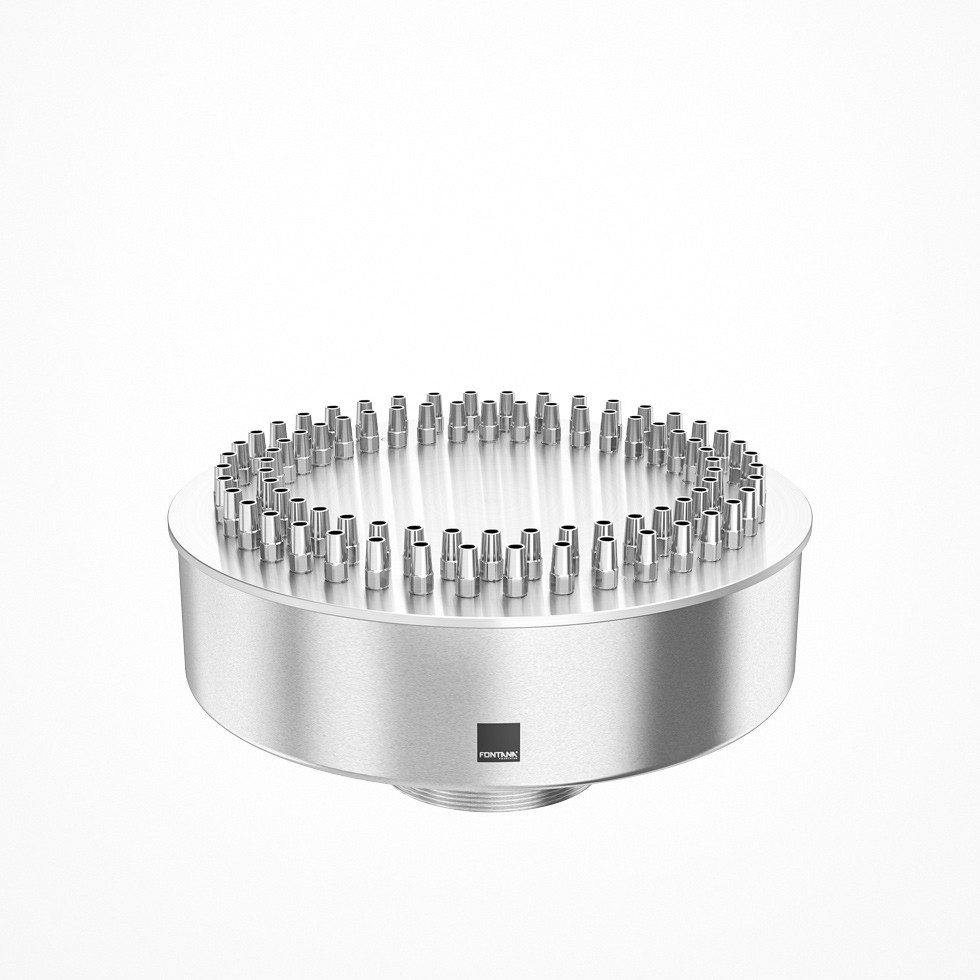 Famous as the most massive, frothy and utterly visible water effect — the Fontana Foamy Column. A very dense array of smaller jets shoots water straight up with enormous pressure, producing an opaque, frothy column of white water.
The incredibly dense nozzle arrangement is laser guided and cut to be completely vertical and uniform. This distinctive water shape is highly visible both in sunlight and at night when illuminated by vivid LED luminaires. The way that this fountain head operates also offers the highest possible wind stability. Made entirely of premium stainless steel, it is made to last even in the harshest environments.
The Foamy Column can be customized to suit specific project requirements. It is also available in "ring" format.
Massive, Frothy, Utterly Visible
Laser-Precision of Nozzles
Highest Wind Resistance
Removable cap for easy cleaning
Made of Stainless Steel
Not Water Level Dependent
Typically customized to match project requirements.
Application Inspiration:
Project Spotlight
Al Shaheed Park, Kuwait
The Fontana Foamy Column really shines at the Al Shaheed Park in Kuwait. Using a custom, ring arrangement, we were able to recreate a mind-boggling water effect. The streams look so full and and powerful that create the illusion of lifting the architectural rocks up in the air. The precise arrangement of the nozzles leaves no gaps, effectively concealing the internal structure and creating a raw, yet well-defined formation.
Foamy Column — A brilliant, raw and yet refined water effect which offers extraordinary volumes of white water.
Incredibly Dense & Frothy. Precisely Engineered. Spectacularly Massive.
Made in Europe with the finest EU & US origin materials. Crafted by smart machines and talented engineers.
Discover How It's Made
Technical Specifications
KL 150
Material

Stainless Steel 316L
Inlet BSP/NPT

1½"
Nozzles

32x
Orifice in mm

6.0
Dimensions

D120 x 125 mm
Suct. Strainer

min 3.0mm
Hydraulic Data

Spr. Height


[m]

Flow


[lpm]

Head


[m]

0.5
211
0.8
1.0
320
1.5
1.5
358
2.2
2.0
406
2.9
2.5
456
3.6
3.0
500
4.4
4.0
579
6.1
5.0
673
8.2
6.0
753
9.6
KL 300
Material

Stainless Steel 316L
Inlet BSP/NPT

4"
Nozzles

80x
Orifice in mm

6.0
Dimensions

D308 x 203 mm
Suct. Strainer

min 3.0mm
Hydraulic Data

Spr. Height


[m]

Flow


[lpm]

Head


[m]

0.5
528
0.8
1.0
799
1.5
1.5
896
2.2
2.0
1015
2.9
2.5
1139
3.6
3.0
1251
4.4
4.0
1491
6.1
5.0
1684
8.2
6.0
1882
9.6
KL400
Material

Stainless Steel 316L
Inlet BSP/NPT

4"
Nozzles

36x
Orifice in mm

10.0
Dimensions

D308 x 230 mm
Suct. Strainer

min 5.0mm
Hydraulic Data

Spr. Height


[m]

Flow


[lpm]

Head


[m]

0.5
584
0.9
1.0
850
1.8
1.5
1053
2.7
2.0
1228
3.7
2.5
1353
4.7
3.0
1510
5.6
4.0
1760
7.8
5.0
1705
9.9
6.0
2194
12.0