Fan jet is categorized under the truly impressive and charming water shapes. Its nothing-alike 6.0 mm thick water-film pattern catches everybody's attention in all kinds of applications.
The Fan jet is manufactured entirely of 304 Stainless Steel (or 316 on request) and it is one of the best choices for side-water features.
Fan jet's water effect is displayed best in lower heights and at angles between 35-90 degrees off horizontal axis. For uniform illumination choose wide angle LED luminaires and place them close to the jets pointing at the middle of the stream.
Fan jets are water level independent and water supply must be linear, non-turbulent.
Truly Impressive Water Shape
Unique Water Film Look
Made of Stainless Steel
Not Water Level Dependent
Water supply to the jet must be linear, non-turbulent
Highly efficient nozzle due to the Stainless Steel friction-less internal surface
Application Inspiration:
Technical Specifications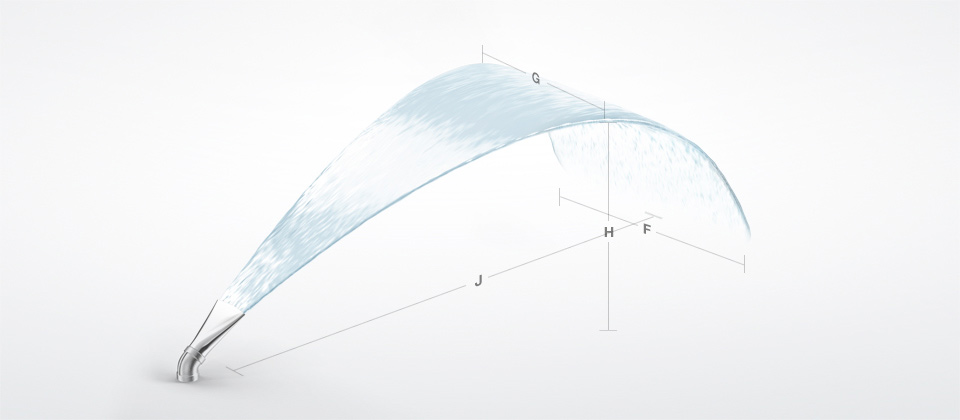 ML 150
Material

Stainless Steel AISI 316L

Inlet BSP/NPT
1½"
Dimensions

112 x 160
45° Elbow
Optional
Suction Strainer Openings Required
2.0 mm
Spray Length ( J )
Height (H)
Spread (F)
Spread at Max. Height (G)
Flow
Head
0.5 m
0.20 m
0.24 m
0.17 m
71.3 Lpm
0.5 m
1.0 m
0.35 m
0.44 m
0.33 m
106.5 Lpm
0.8 m
1.5 m
0.45 m
0.70 m
0.50 m
137.4 Lpm
1.2 m
2.0 m
0.60 m
0.95 m
0.70 m
162.3 Lpm
1.6 m
2.5 m
0.70 m
1.05 m
0.80 m
186.3 Lpm
2.0 m
3.0 m
0.87 m
1.35 m
1.00 m
207.1 Lpm
2.5 m
3.5 m
1.00 m
1.68 m
1.10 m
229.6 Lpm
2.9 m
4.0 m
1.18 m
1.78 m
1.20 m
368.3 Lpm
3.3 m
Downloads
You can download any of the following files for your own personal use. Information contained in these files might change without prior notice. Copy in part or in whole, as well as reproduction, publication, distribution or any other use are strictly prohibited without written consent by Fontana.