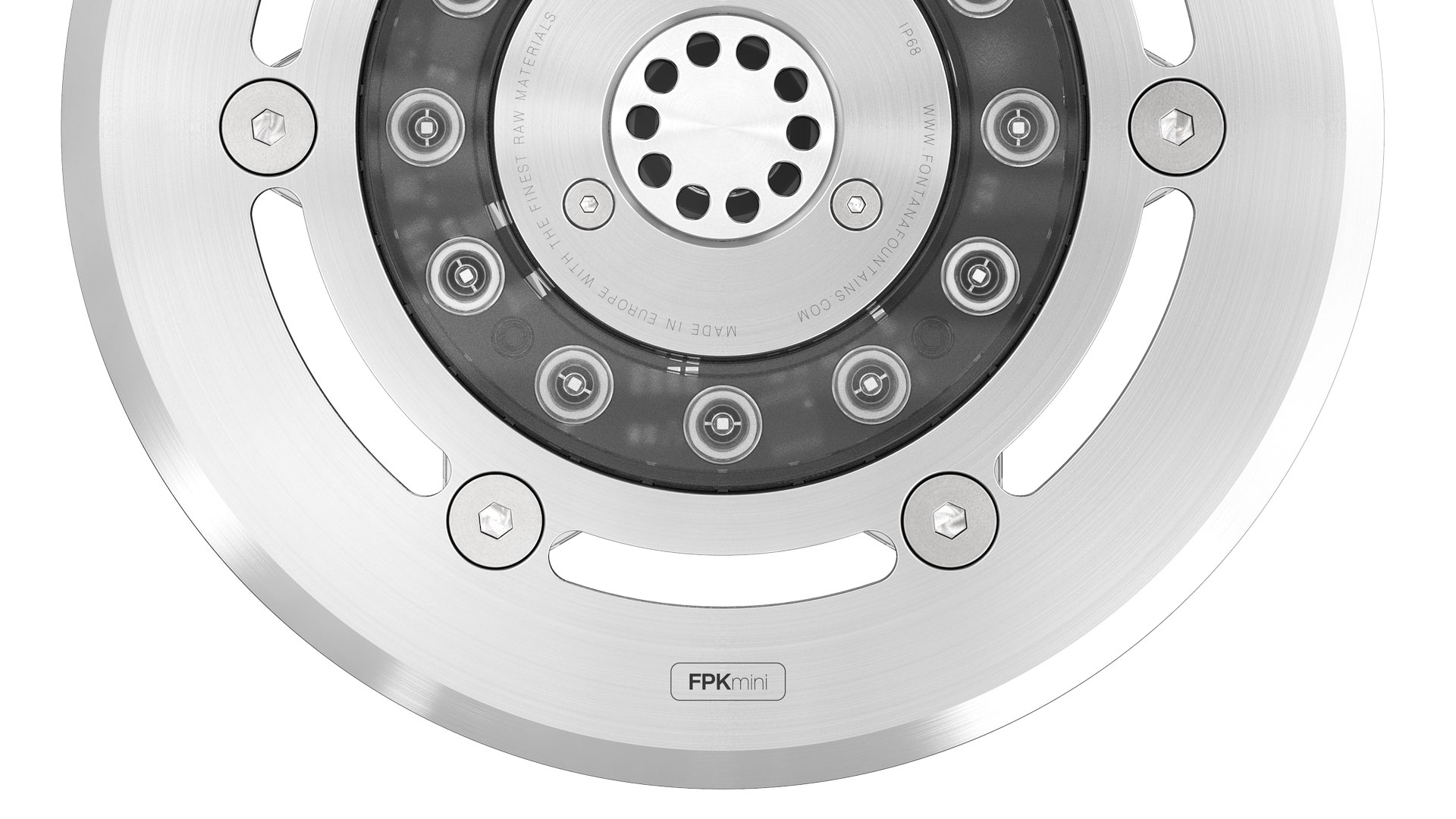 A
revolutionary

way to make interactive fountains

The FPK mini is a brand new type of product to create dry deck fountains. Offering characteristics that are traditionally available by much larger and more expensive systems, the FPK mini features incredible technology and innovative engineering, bringing commercial-grade quality in a smaller, easier to install and maintain product.
Compact Size
Powerful LED Lighting
Premium Materials
Beautiful Finishing
Universal Connection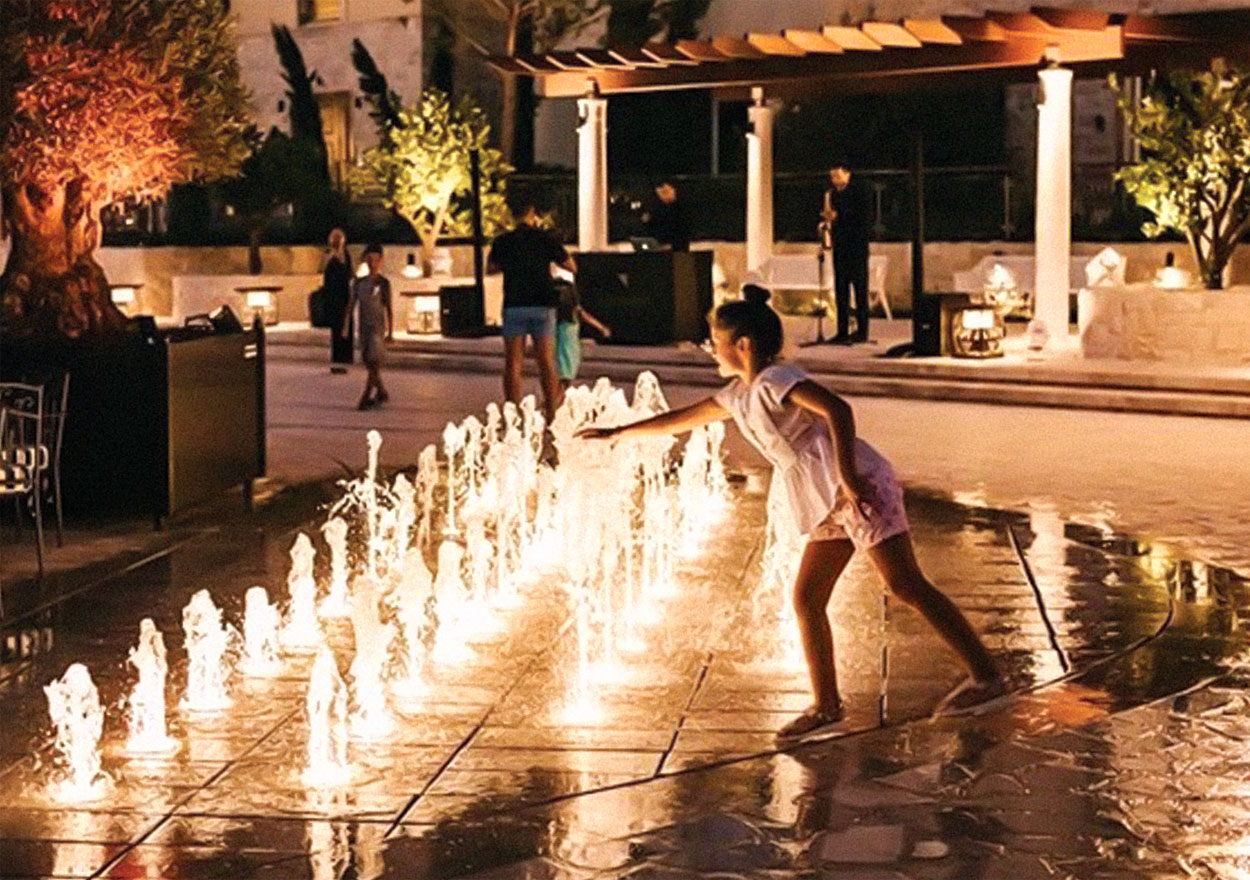 The FPK mini is designed from scratch, inside-out, with one promise to meet: To be the smallest, fully-featured, commercial-grade fountain kit for interactive water features.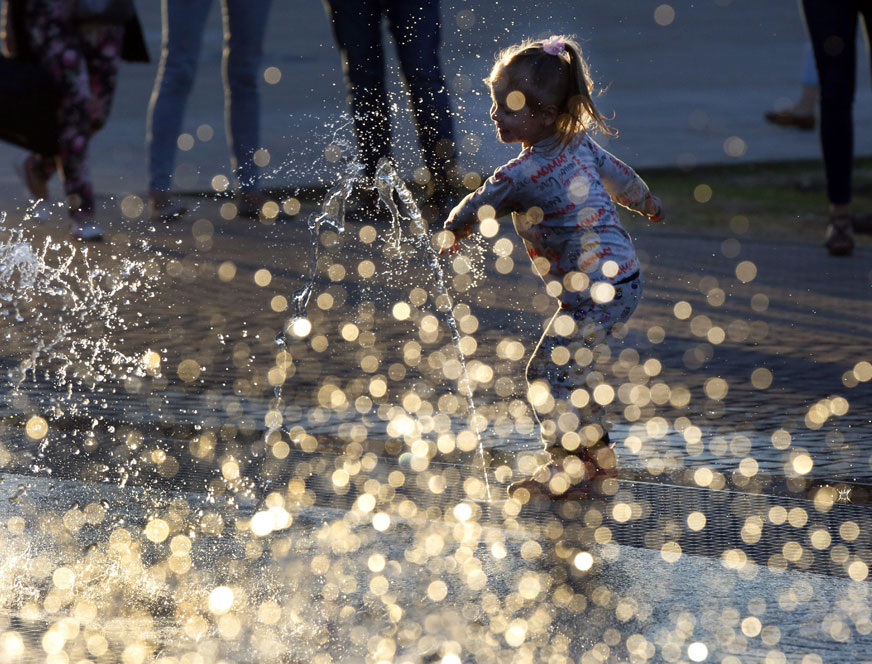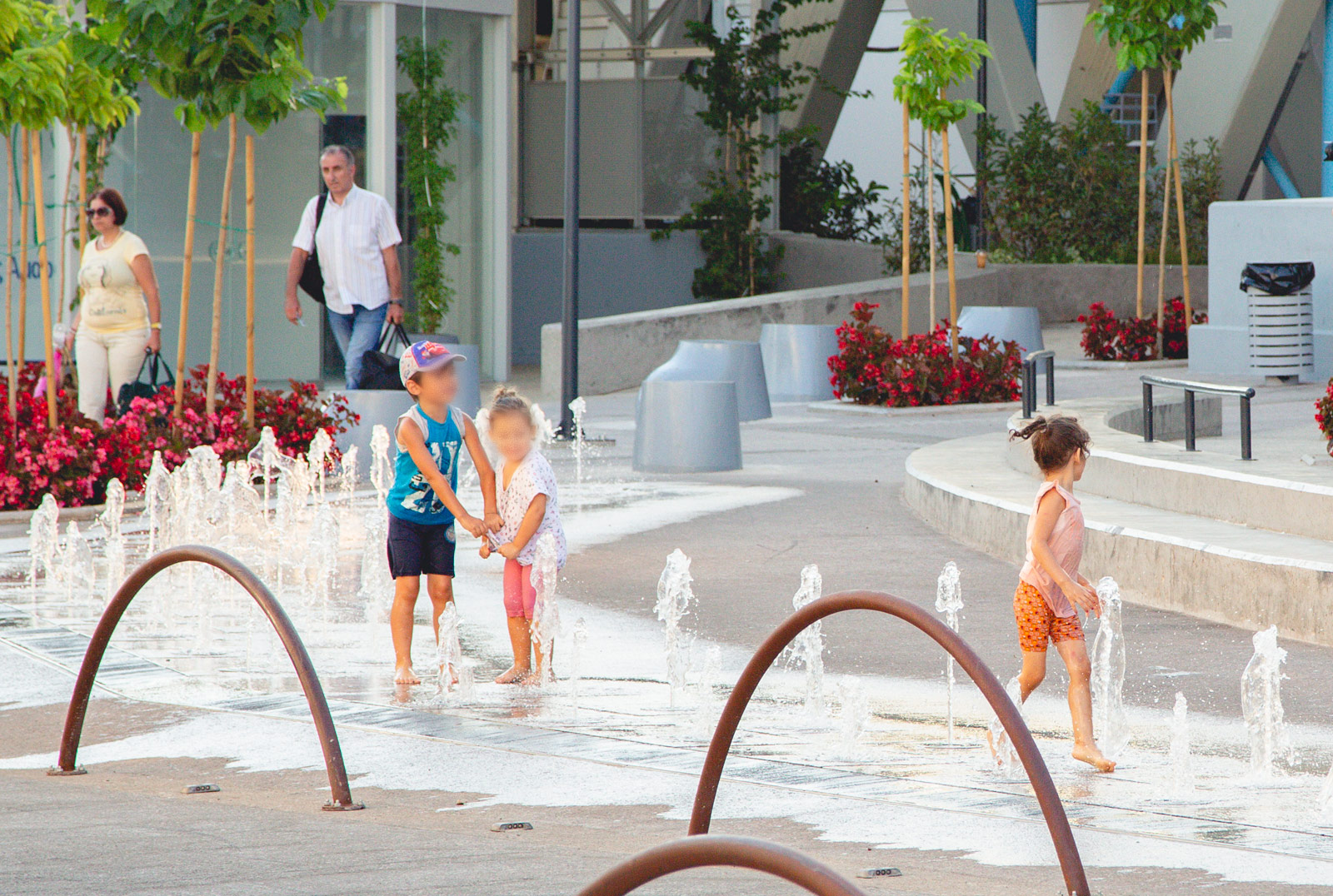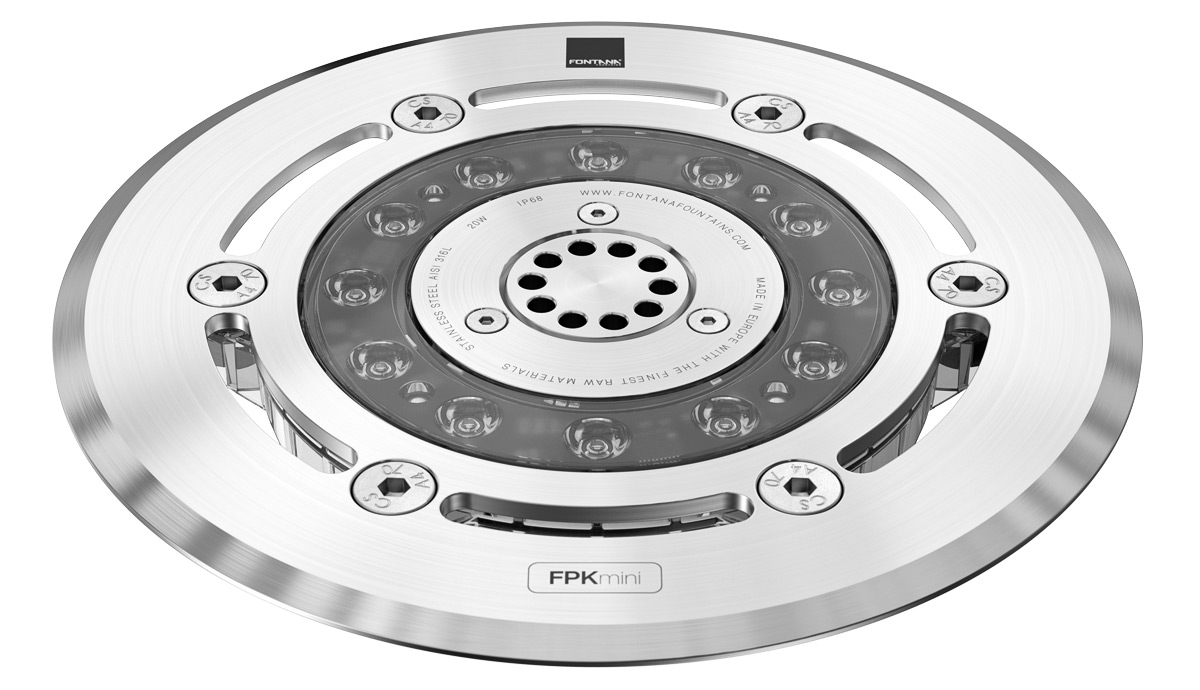 Premium Materials
Stainless Steel 316L
The FPK mini is a masterpiece of engineering. It uses heavy-duty Stainless Steel extensively and the nozzle is machined by smart CNCs at exceptional precision. The strong faceplate is specially treated to withstand impacts and loads, while the premium finishing provides a long-lasting sheen.
Vandal-proof, UV-Stabilized PC
The only non-Stainless Steel element of the FPKmini is the indestructible and vandal-proof lens. A special grade of UV stabilized and resistant PC is used to protect the electronics while providing phenomenal transparency and color mixing to achieve the optimum lighting output of the LEDs.
It's the incredible materials knowledge we have mastered that allows us to create such remarkable products.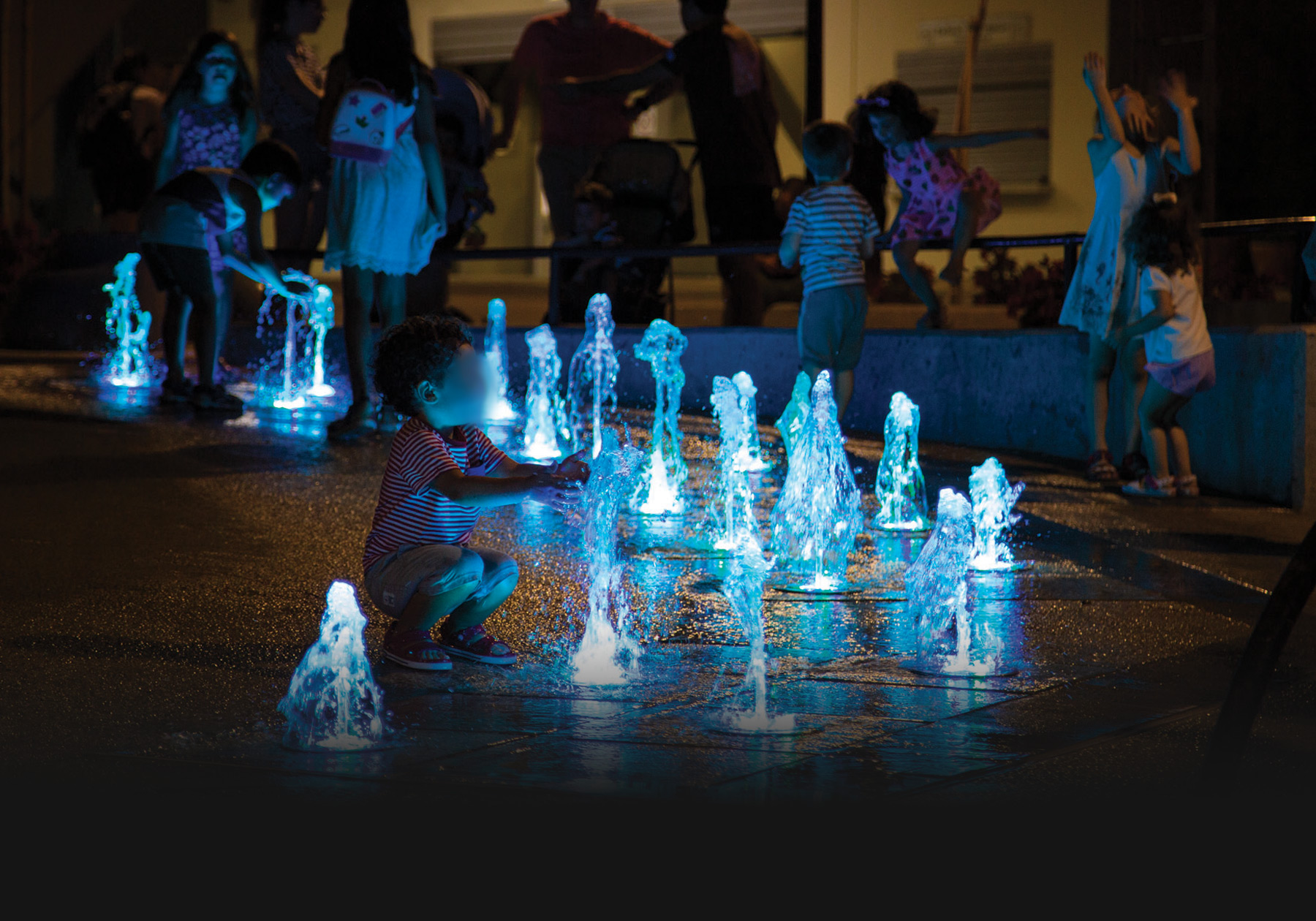 Show-grade Lighting
You wouldn't believe the power and richness of color that comes from such a small LED fixture. Using our latest and most advanced technologies, the FPK mini offers incredible intensity and vibrant colors, achieving show-grade lighting qualities.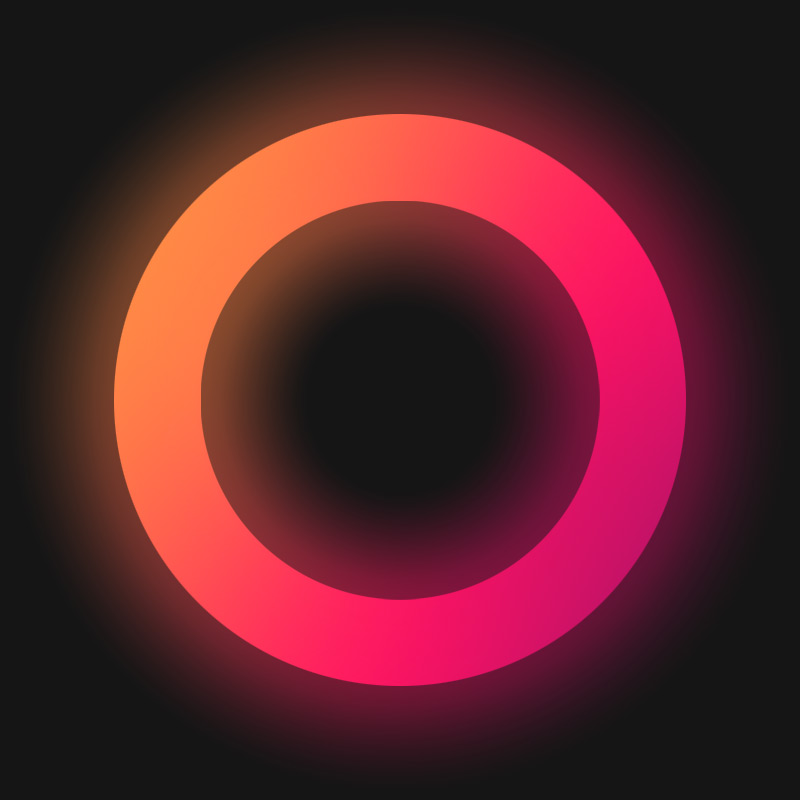 Vivid Lighting
The light source of the FPK mini comes from our show-oriented technologies. It offers exceptional vibrancy and color fidelity – on the entire color spectrum. This translates to magical lighting shows and unforgettable experiences.
Smart Technologies
A genius little LED module. With comprehensive self-protections, advanced color processing capabilities, and universal control, the FPK mini is the smartest of its kind. It's also the easiest and most economical to use in interactive water features.
Application-specific Optics that concentrate light on the jet.
Embedded Microprocessor constantly monitors the fixture.
Active Thermal Protection for enhanced operation & lifespan.
Works with long cables without being affected by voltage drop.
Learn more about Technologies
The embedded microprocessor. It's a masterpiece of lighting electronics control and the heart of our technology. A technology we constantly refine and improve for longer than 16 years.
The brain of the system constantly monitors the fixture status & temperature, optimizing performance on the fly. It communicates with the controller receiving and interpreting data about ID, color and intensity.
At the same time, the system ensures that data get delivered consistently and intelligent sub-systems keep an eye for possibly improper electrical conditions, blocking off noise and interference.
Advanced Electronics — our best technologies yet. Each Fontana LED module looks like a small computer. The profound attention to detail you would expect of Fontana is evident in every sub-system.
Unparalleled Color Fidelity. The color engine uses high-definition drivers, embedded on the PCB. This method allows for accurate, high-precision and high-fidelity control of each LED.
Famous Reliability. The discrete components of the PCB are carefully selected to meet the strictest quality, reliability and performance standards. The smart self-protections further improve the resilience of the fixture.
led:bus
led:bus is a language. It's the language that all Fontana lights speak – a technology that we designed from scratch for underwater devices. It's fully compatible with other languages like DMX, DMX/RDM and Dali. But with led:bus you don't need to learn anything new, because led:bus is made to work behind the scenes – autonomously and reliably. Led:bus also allows the use of fewer and smaller cables to power and control multiple light fixtures leading to significant cost and resources savings.
With led:bus, all you have to do is connect the cables — and the whole system works by itself. The simplicity of led:bus leads to neater, more organized and manageable installations of complicated systems.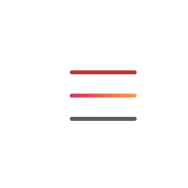 Simple 3-core Cables
You can use simple, non-shielded 3-core cables to power & control multiple fixtures.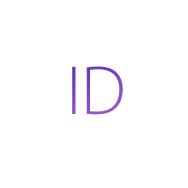 Addressable Fixtures
Each light has a unique ID and can be configured to listen to a specific address for multi-color light shows.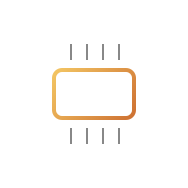 Integrated Drivers
The LED drivers are integrated to the module simplifying everything and significantly reducing costs.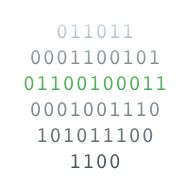 Industrial-Grade
led:bus is a heavy-duty, extremely reliable communication protocol. It is encrypted too.

The FPK mini is also available with Direct DMX/RDM control.
Fontana is a formally registered DMX/RDM manufacturer listed with the ID 0965h.
Voltage Drop: Irrelevant. Traditional LED technologies are severely affected by voltage drop. When longer cables are used, the lights further away from the power supply have lower intensity. In some occasions, they might not even work at all.
The Fontana technology is unaffected by voltage drop. Fixtures work at their full potential on any voltage between 12-24V DC (true margins: 10V to 36V DC). Every fixture outputs 100% of its intensity regardless of how far it is from the power supply.
Active Thermal Control
Constant, real-time balancing of Temperature and Performance.
Reverse Polarity
Protected from accidentally incorrect connections.
Voltage Surge
Protected from sudden surges in the circuit voltage.
Flicker-Free
Industry-leading Technology that eliminates flicker at 4.6KHz.
A variety of precision nozzles can be connected on the jet.
Nozzles for the FPK mini are compatible with each other, meaning that you can change the effect of your fountain at any time, even years after the installation, giving a fresh look and a different water display.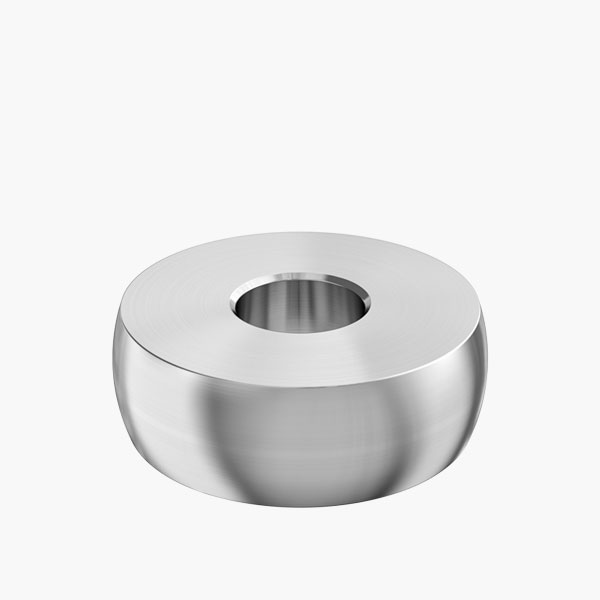 Smooth Bore
up to 2m/6.5ft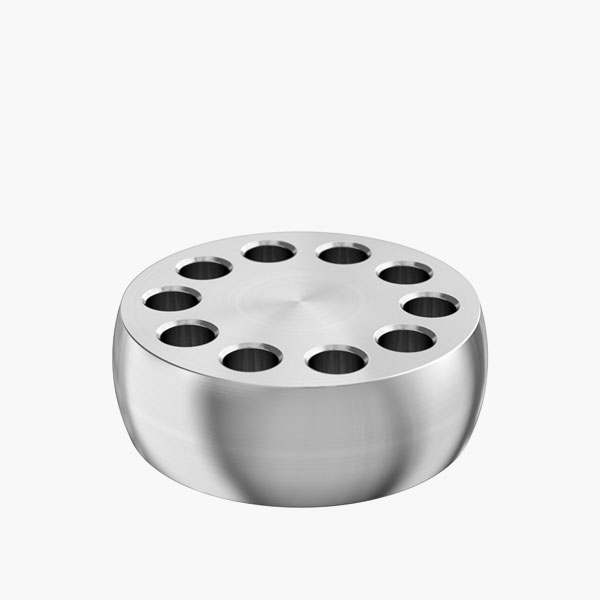 Cluster
up to 2m/6.5ft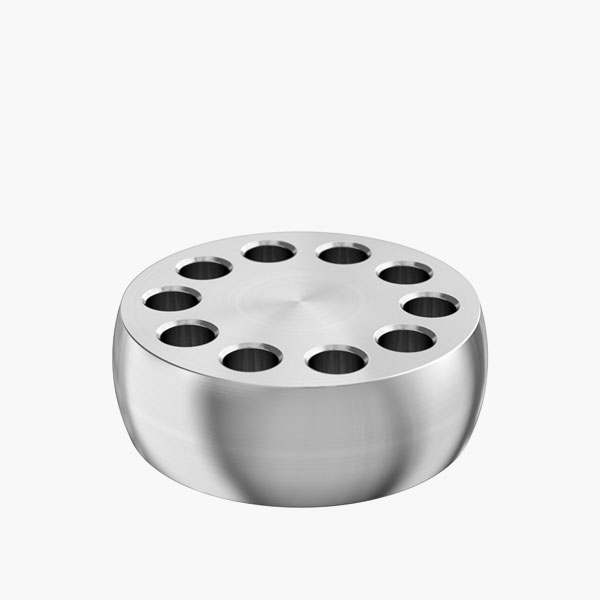 Lily
up to 1.5m/5.5ft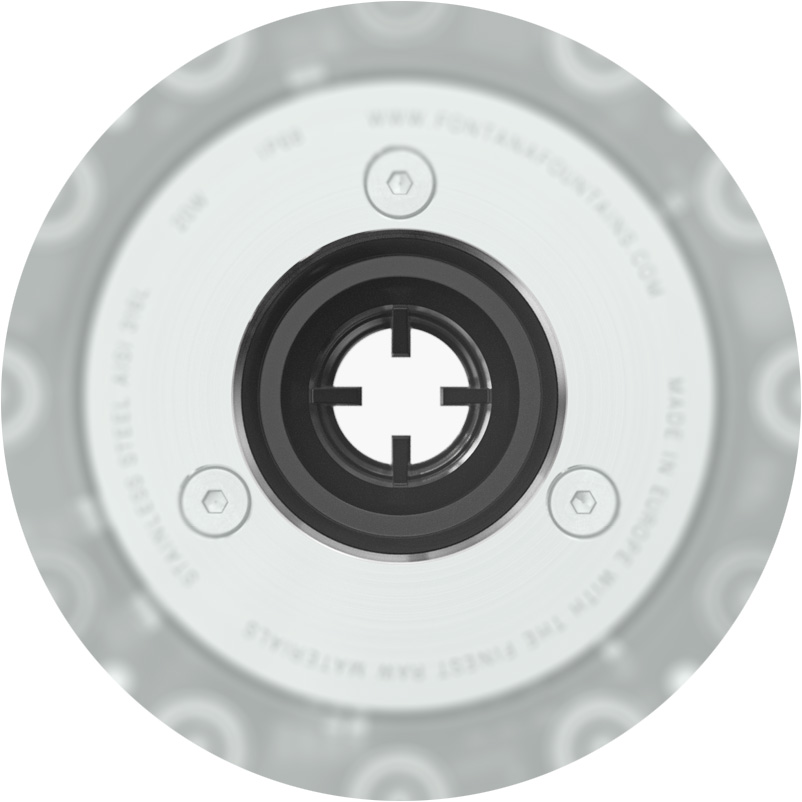 Integrated Flow Straightener
The Fontana-designed internal flow straightener reduces turbulence from the pump supply and optimizes the flow performance of the nozzle.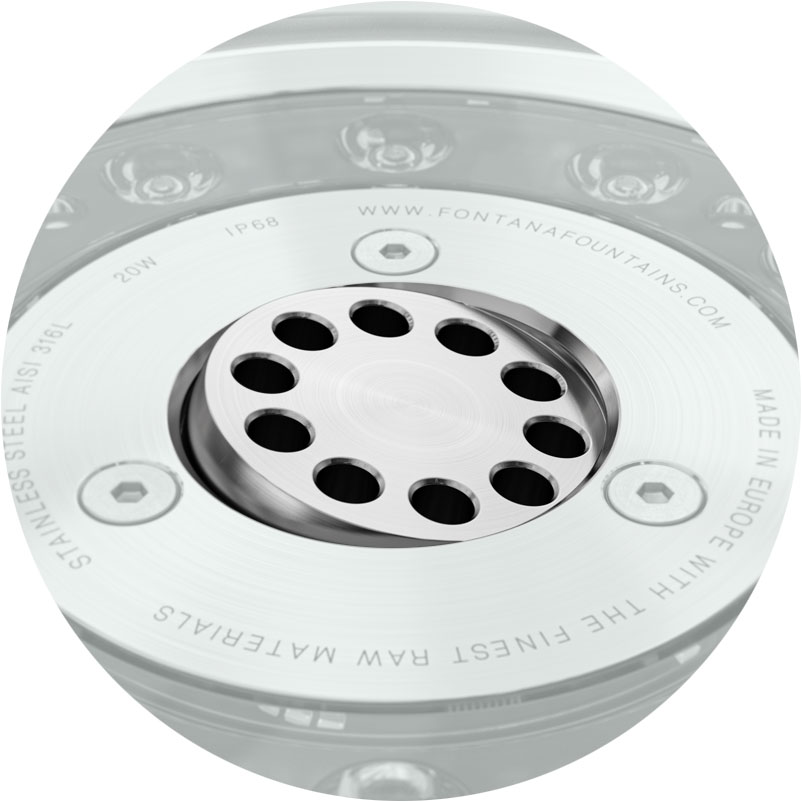 Integrated Swivel
The integrated swivel design allows you to easily adjust the stream angle with the kit installed, without having to remove or dismantle it.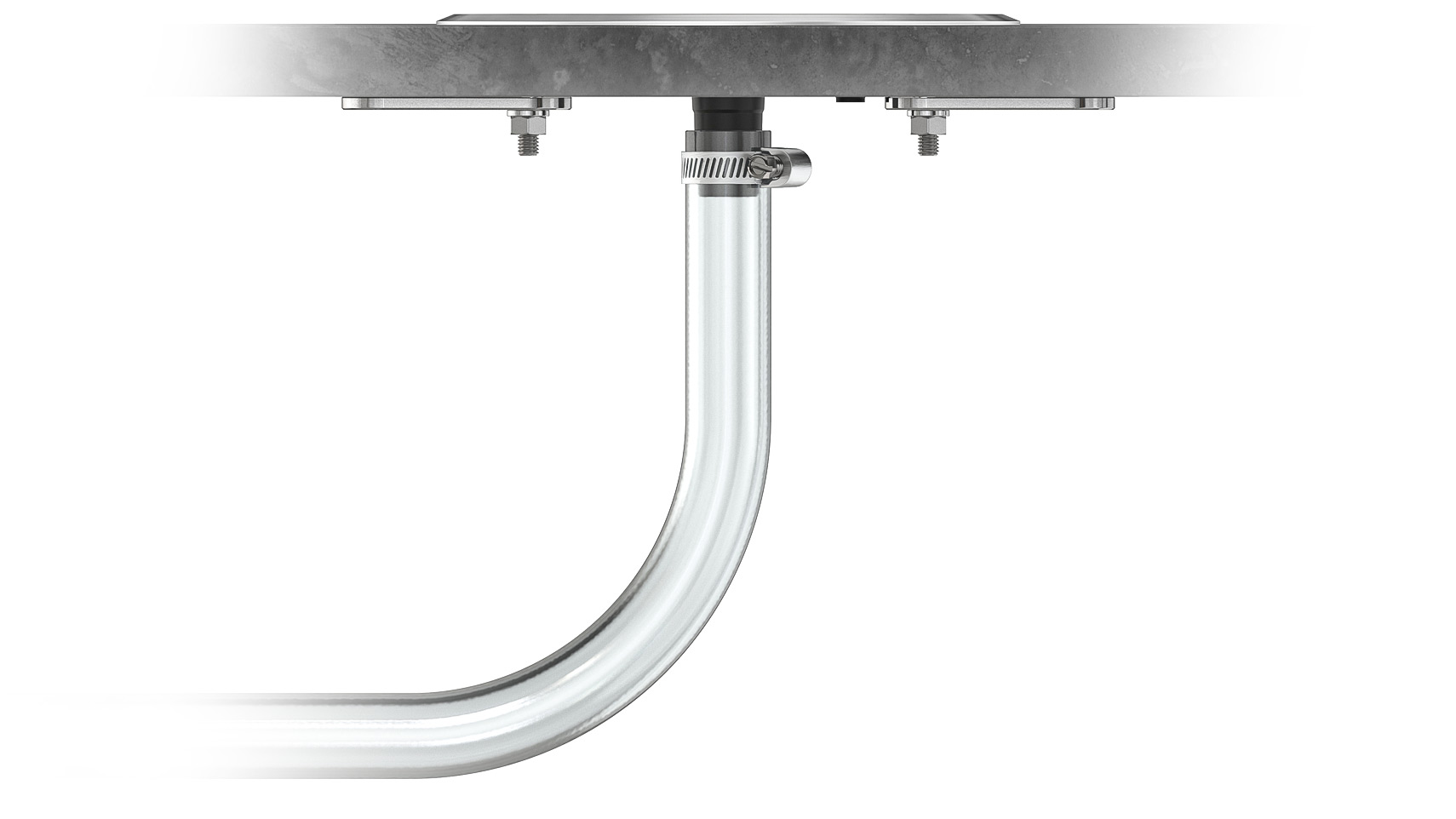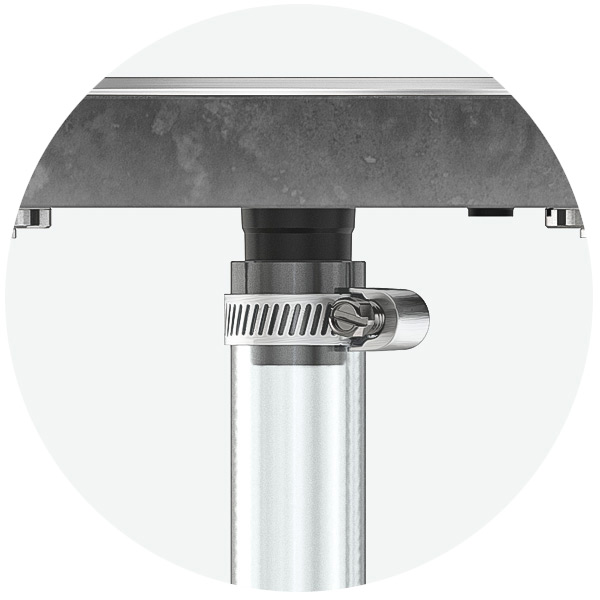 Universal Connection
The FPK mini comes with a universal barb connection for ¾" flexible hose, making it easy to use anywhere in the world.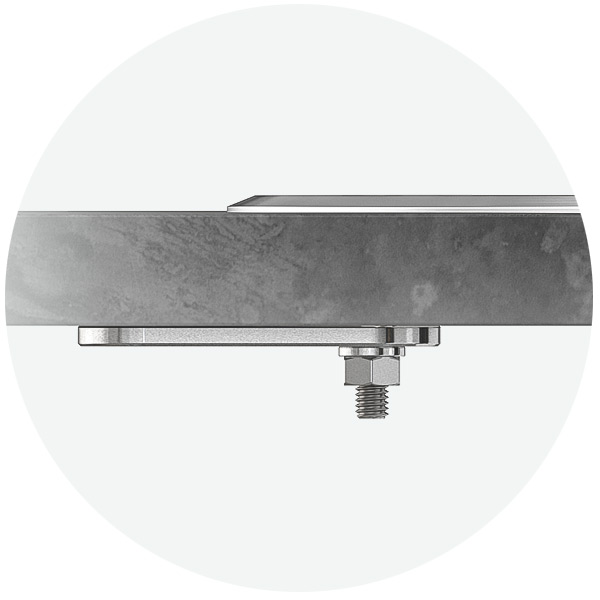 Simple, Secure Mounting
The slab-hanging format allows easy and secure mounting on slabs up to 80mm thick by fastening only 2 screws (included).

Safety First
Anti-Slip Surface
The top surface of the FPK mini is specially treated and designed to be slip-resistant – shoes on or not.
Recessed – Flush Mounted
At just 3mm thickness and being entirely flush into the ground, the FPK mini keeps toes and heels safe.
Vandal-Resistant
The material we use for the light is used in bulletproof applications, making the FPK mini exceptionally impact and vandal resistant.
Meets toe-entrapment code
The FPK mini surface combined with the nozzle design complies with the safety code for toe entrapment.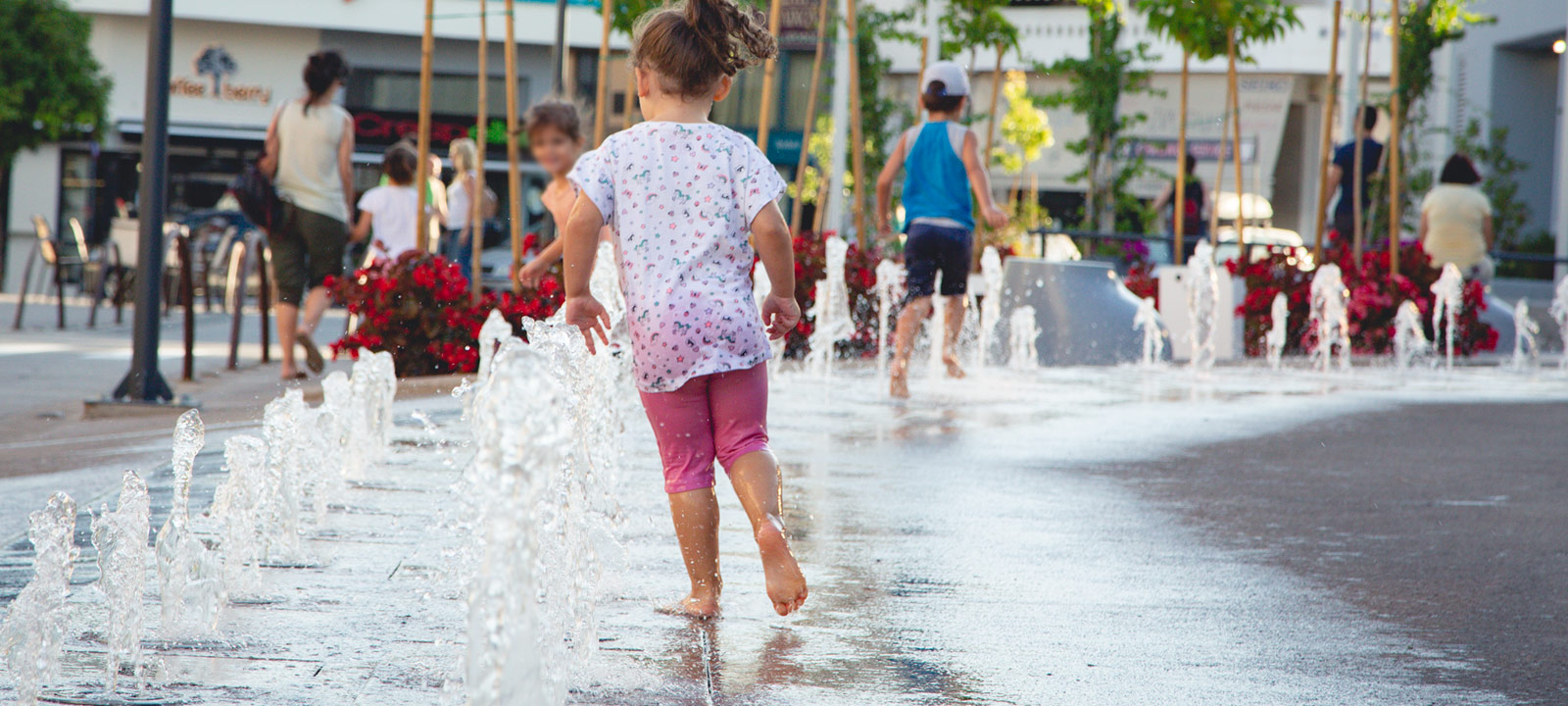 Certificied Excellence
Available Options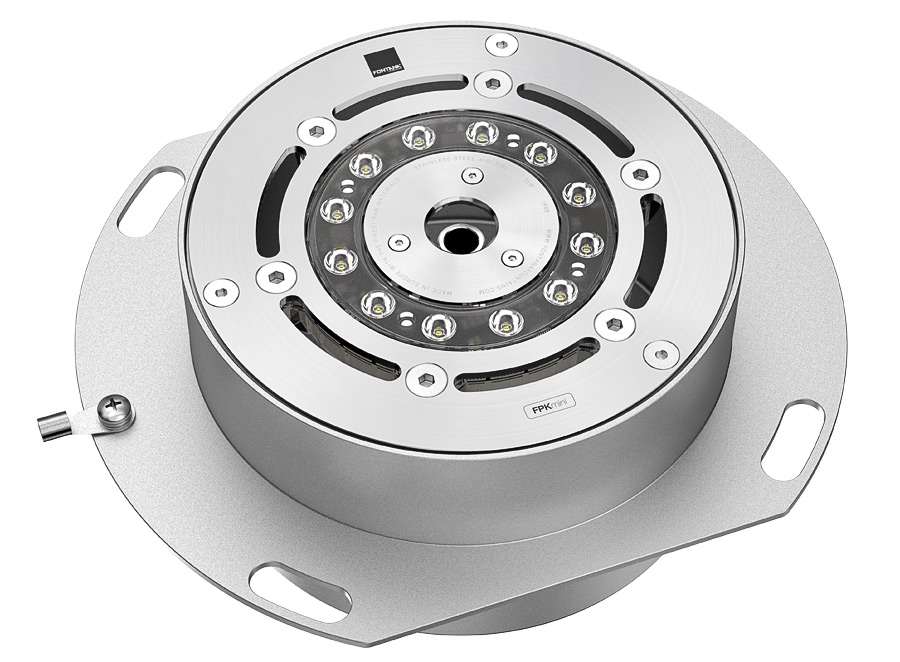 Niched format for embedded
installations also available.
Cast in concrete
Permanent Installation
Removable for cleaning
Heavy-Duty
All-in-one solution
Programmable Submersible Pump
for impressive choreographies.
Programmable with on-board controller
IP68, Low-voltage Submersible Pump
DMX/RDM controllable
Integrated debris filter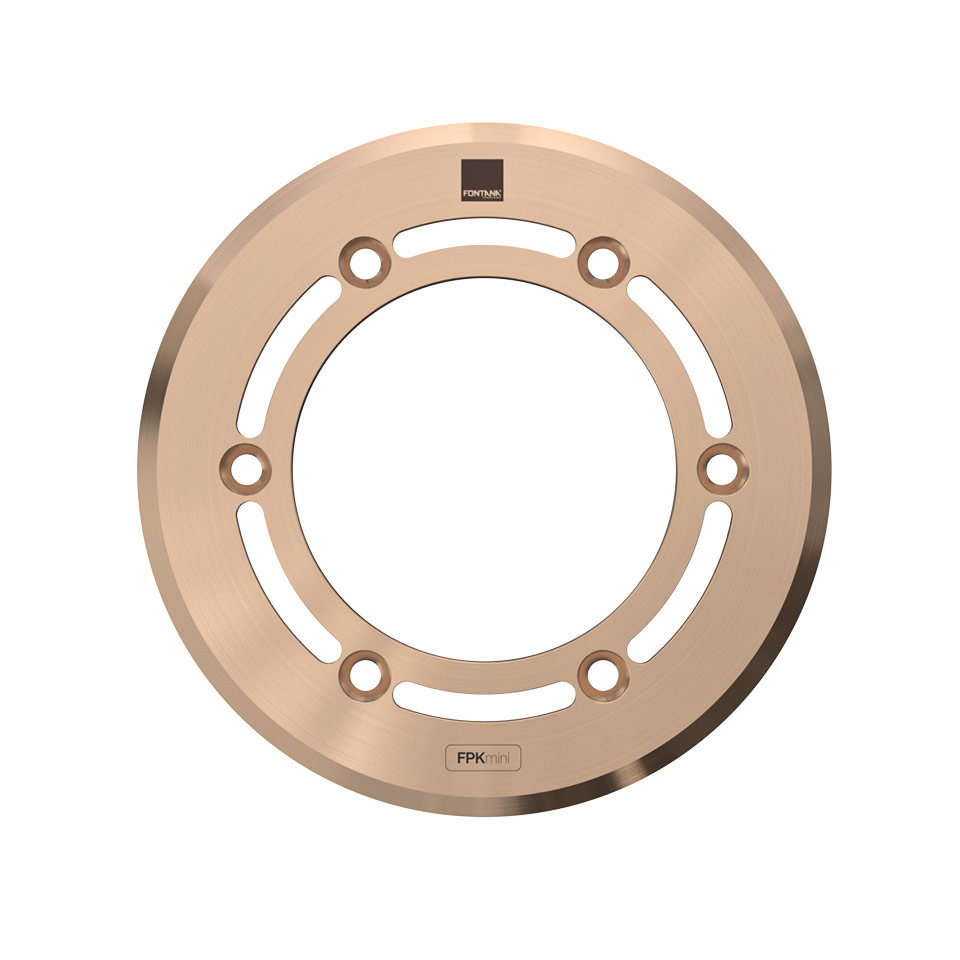 Classic Bronze look
pure Stainless Steel.
Innovative color-altering process
Not a coating or paint
Retains all properties of Stainless Steel
Perfect for classical, vintage and traditional projects
Technical Specifications
Mechanical
Diameter:
165mm 6.5 inches

Total Height:
50mm 2 inches

Mounting:
Slab-Hanger Installation
clamps up to 80mm

Cover:
Round Square on request [.SQ]

Inlet
Barb Fitting for flexible hose
I.D. ⌀19mm • ¾"
Material
Stainless Steel AISI 316L 1.4404
Radial CNC finished with laser etched details.
Application
Fresh, Pool and Sea water
Nozzle
Smooth Bore ⌀10mm
Available with 14mm Smooth Bore, Cluster Jet, Lily and other nozzles on request.
Refer to the Hydraulic Performance Table to review the flow requirements of available nozzles.
Lighting
RGBW
20W
12-24V DC
Color: RGBW – 4.1 billion colors
LEDs: 12 High Power LEDs
Control: led:bus
White
20W
24V DC
Color: Pure White
LEDs: 12 High Power LEDs
Control: Electrical
White version can be dimmed with DALI controllers. Color version is using led:bus, compatible with DMX/RDM. Direct DMX/RDM option also available.
Custom colors and color temperatures are available on request.
Lens
UV-stabilized, impact-resistant PC
Optics
Bespoke, optically-clear lenses
Self Protection
Yes
The embedded processor constantly monitors the operation of the fixture to ensure optimal operation.
The Active Thermal Protection system uses a smart algorithm to gradually reduce the brightness in case of overheating, ensuring the max. possible light output.
Additional hardware systems provide overvoltage, voltage surge and reverse polarity protection.
Flicker-Free
Yes – 4.6kHz
Flicker can lead to unpleasant or even life-threatening conditions. Fontana fixtures utilize industry-leading anti-flicker technologies.
Lifespan
Estimated 120.000 hours
Compliant to the L80 Lumens Maintenance Spec – In 80.000 hours of operation the initial lumens output will not have degraded by more than 20%.
Operating Temperature
Heavy Duty, Floor-mounted Stainless Steel Bracket
Cable
3.0 meters Chlorine-Resistant Waterproof Cable
12ft type SOOW for North America, UL Listed version
5m, 10m, 15m or custom lengths available on request
Hydraulic Performance & Data
Smooth Bore
Cluster
Height
Flow
Head
Velocity
Flow
Head
Velocity
m
ft
lpm
gpm
m
ft
fps
lpm
gpm
m
ft
fps
0.3
1.0
11
2.9
0.9
2.9
7.7
15
4.0
1.2
3.9
8.2
0.5
1.6
16
4.3
1.4
4.6
11.1
20
5.3
1.6
5.2
10.9
1.0
3.3
22
5.9
2.3
7.5
15.3
27
7.2
2.8
9.2
14.7
1.5
5.0
27
7.2
3.1
10
18.8
34
9.0
4.0
13
18.5
2.0
6.5
31
8.2
4.0
13
21.6
39
10
5.1
17
21.2
Head Loss by 2m (6ft), Ø19mm ID Flexible Hose is included in the values.